MOTOR: One word......nuclear. Simply…….nuclear. There is no other way to describe this thing. The 2200kv, 4-pole Monster motor from Castle is powerful beyond comprehension. Talk about a Hemi powered go-cart! You should need a special license to run something like this. It propels the B-Maxx like the little Mamba's propel 1/18th scale Losi Mini-T's.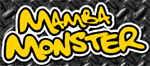 We LOVE the flat spot on the 5mm shaft! Thank you for finally giving us something for our pinion gear to hang onto! We can only guess that with this much power, Castle was forced to go with a flat spot on the shaft just to keep the pinion secure. The motor can is ULTRA-TRICK with built-in cooling fins, it's nothing but A++ quality. Now let's talk about the sound. There is something wicked about the whine this truck puts out. It's the gears, tires and drivetrain you hear the most but the sound is still addictive. You hear this thing coming and turn your head instantly! It screams pure speed and power. What a sweet symphony it is! Even at low speeds, the motor is super smooth….smooth enough to crawl with.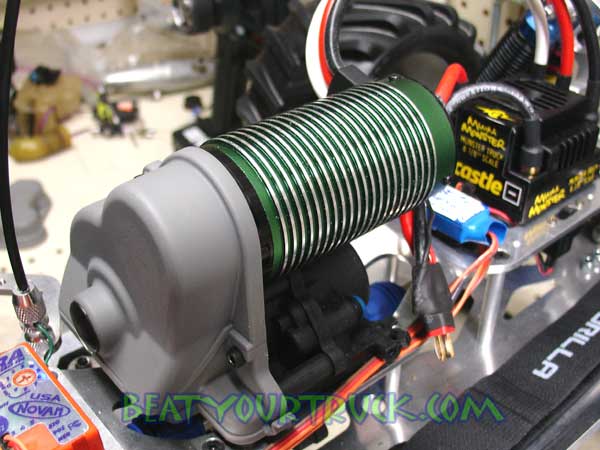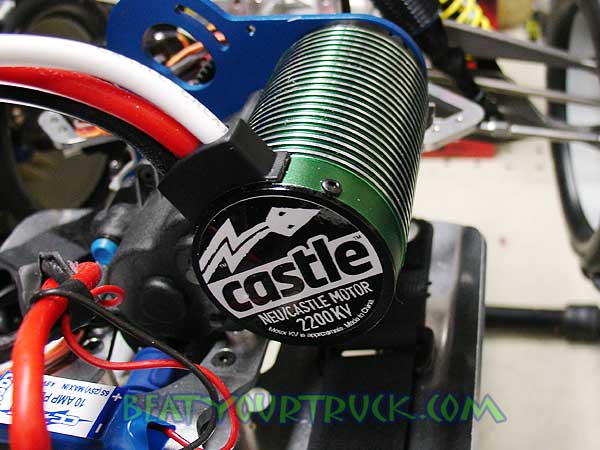 ELECTRONIC SPEED CONTROL: The Castle V3 Monster ESC is truly a tower of power. It features massive 6.5 mm gold plated female bullet plugs and a high efficiency heat sink with a built-in fan that will automatically turn on at 150F. Of course it is Castle Link compatible and we were able to program our Monster ESC exactly how we wanted it and fine tune it as we learned how powerful the motor/ESC/battery combo was. Being able to adjust the punch control and throttle curves is a huge benefit when running big power rigs like this. You can really make a somewhat overpowered system more drivable with some simple tweaks to the ESC setup.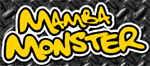 The Castle Monster Combo comes with the ESC, motor, 18T 32P aluminum pinion (anodized green...very cool), and Drivers Ed user guide. You'll need connectors and some soldering ability to get everything ready to go. Chances are if you are getting this serious about a brushless system, you know how to solder. If not, check out this helpful video by one of our moderators (Sleebus.Jones) or at worst, have your local hobby shop or electronics store solder them up for you.

Castle offers two motor choices for the Monster Combo. The 2650kx setup is best for 1/8 scale buggies. The 2200kv setup is best for monster trucks like the E-Maxx.

From the Castle web site: Based on Steve Neu's awesome 15 series motor, the Neu-Castle 2200 and 2650 are works of mechanical art. They both feature high quality oversized bearings, sintered Neodymium magnets, superior electromagnetic design, and rigorous engineering control in our own factory resulting in a Monster motor we can put our name on. Neu-Castle 2650 KV – Intended for 4S (16.8 Volt) operation. Ideal for 1/8th buggy conversions. The 2650 is 68mm long. Neu-Castle 2200 KV – Intended for up to 6S (25.2 Volt) operation. Incredible in monster trucks with up to 6S lipo packs (4s lipo is the sweet spot), and works great in 1/8 Truggies as well. The 2200 is 75mm long making it capable of handling more power than the 2650. This one is the bad boy!

Yes Castle.....it is one bad boy motor! Motor efficiency is pretty impressive with the Monster series at a posted 85%+. That means less battery power is wasted and more is put to the wheels. It also means more run time compared to less efficient motors.

Check out the product review on the Castle Monster Combo system for more info!
BATTERY POWER: We went out on a limb and tried a new battery manufacturer this go around. There was a lot of buzz on the BYT Forum about Zippy packs so we decided to give them a try. We picked up our Zippy 5000mah 5S1P (20-30C) Li poly pack from HobbyCity.com (about $105 + shipping) . Our recommendation here is to use the upgraded shipping. It would be worth it. We chose the slow shipping method to save some bucks (bad move) and it took like 3 weeks for the pack to arrive. Too slow! :)

Zippy 5000mah 5S1P Li poly pack specs:
Capacity: 5000mAh
Voltage: 5S/18.5v/5 cell
Discharge: 20C ~ 30C
Weight: 659g
Size: 160 x 51 x 40mm
Connectors: JST-XH for balance/charge and Deans (wanna be) for output.

Note that the plug they call out as "Deans" is a knock off plug and not as nice as the Deans. It works with other "real" Deans plugs but the quality is not there. You'll want to replace this right away with a genuine Deans plug.

The pack is pretty impressive for the money and 10-15 minutes of run time per pack was common. Our gearing setup kept it running cool and it never really got much over 100 degrees F, even after seriously hard and fast runs. You'll see some performance graphs of a few runs below.....read on!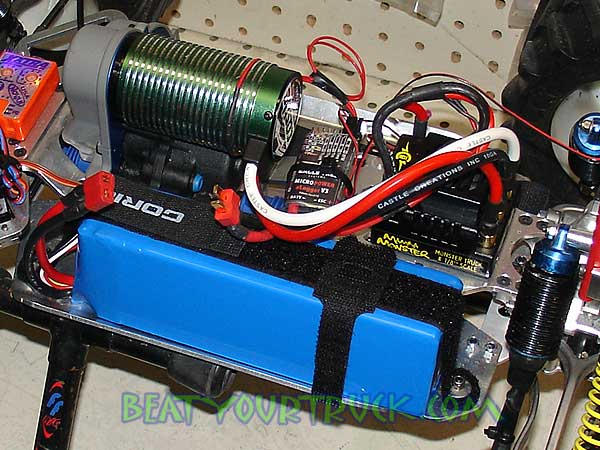 PLUGS, WIRES and CONNECTORS: We used Deans Ultra Plugs (our favorite plugs) , Deans 12 ga Ultra Wire and Deans Racing Solder throughout. The Ultra Wire 12 Gauge silicone wire features 660 strands of pure copper. On the motor and ESC hookups, we used the Deans wire and 6.5mm bullet plugs from Castle. Some shrink wrap to seal things up and we had a trick, heavy duty set of juice carrying cables! We picked up all of our bullets from Holmes Hobbies, great prices and fast shipping.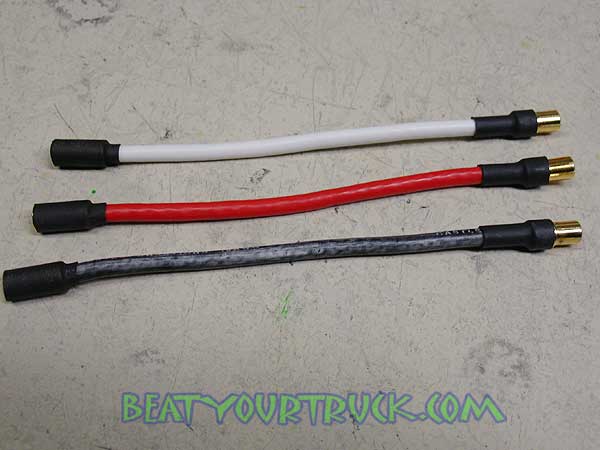 GEARING: Castle offers some additional pinion options separately and they should fit most peoples requirements.

#1 - CC PINION - MOD: manufactured from titanium coated hardened steel. Most common use will be for the 1/8th scale conversions. Available in 11T, 13T, 15T, 17T, 19T, 21T, and 23T.

#2 - CC PINION - 32P: machined from aluminum and anodized Castle green. Most common uses will be for monster trucks. Available in 18T, 20T, 22T, 24T, 26T, and 28T.
Our final project gearing: 19/68

This gear combo gave us the mesh we needed between the pinion and spur gear. There are some gear combinations that we could not make work! With the stock dual motor mounting plate (note that stock dual and optional single mounting plate provide the same motor placement on the left/top mount).

Things to note before ordering gears!
19/62 motor hits transmission case

19/65 – right side no go / left side very close but not enough mesh

19/68 – right side fits with good mesh / left side fits but with very little space between motor and transmission

The stock 3905 E-Maxx uses .8 Mod (Module) gear pitch so we picked up a Robinson Racing Products 19T steel pinion for the job. They are about $8 and built tough like all RRP stuff. For spur gears, we used stock Traxxas plastic gears. Our slipper was kept pretty tight. If it was left loose at all, the power from the motor would whip it into a frenzy! Be sure to check out the spur gears you are running to determine if it is .8 Mod or 32P. Normally, it is printed/molded onto the face of the spur. We suggest this as over time, some gear can get replaced with non-stock setups and trust us, if your gear pitch or mesh is off with a motor like this, you might as well toss them in a food processor (not recommended by the way) because they will be shredded FAST!

This gearing setup lets you pull wheelies when you want to and also keep things under control when needed. We felt it was pretty fast and by some rough calculations, it should be in the 35+MPH range. Overall the low end punch and top end speed seemed to be nicely balanced for general purpose bashing and some fun speed runs.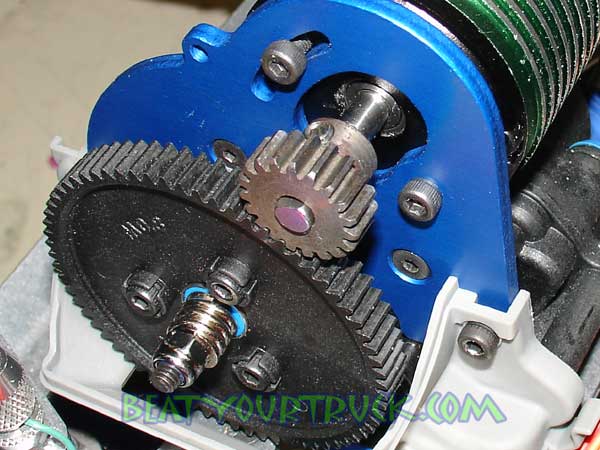 SINGLE MOTOR MOUNT & SPUR COVER: For a better looking setup and for more room on the chassis, we opted for the Traxxas single motor mount (part number: 3997X) and spur gear cover (part number: 3977X). Initially this was not going to be added to the truck but once it was installed, it made everything look so much better and more professional. It looks "factory" baby! And it will do a much better job of keeping dirt and junk out of our gears. It also moves the motor towards the center of the truck (better balance) and makes room for big batteries on both sides of the chassis. The single motor mount plate and cover were about $13 total at Tower Hobbies...money very well spent.