Ahhh. I can still remember it like it was yesterday. Back when we got our first T-Maxx's, we were busting stock arms like they were a dime a dozen. I remember wishing that someone would make an "indestructible" set of arms. With plastic arms, either the material is too soft and you get too much arm flex (less responsive) or it is too hard (becomes brittle). Aluminum is a good material but can reduce responsiveness because of extra weight, depending on the design, and can be bent fairly easily. Either way, plastic and aluminum have been our only choices for monster truck suspension arms......until now. FlexTek RC is on the scene with new cast TITANIUM suspension arms that look tough as nails (ummm…tough as titanium nails) and are an industry first.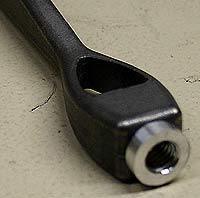 FIRST IMPRESSIONS: The arms came beautifully packaged. Each and every piece kept separate from the others to prevent any shipping damage. We could barely force ourselves to take the picture in the upper left! We could not wait to rip the package open! The first thing that really grabbed us was the overall design and shape of the arms. They are truly unique, especially the lower arms. We also noticed that there is no cross brace on the lower arms, like there normally are on aluminum and plastic arms. We also liked the beefy ends where the pillow balls thread into the arms (picture to the right).

Needless to say, we were very excited when FlexTek RC approached us back in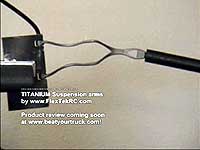 July and said they had something new for the RC world. A month or two later, we received some top secret spy video from them showing how extremely flexible (that's right…we said flexible) these cast titanium arms are. Click here to check it out! Let's come right out and ask! How the heck do you make titanium flex like that?!

Here's what FlexTek had to say, "The design of the FlexTek arms is to absorb energy through deflection without transmitting energy back into the frame work or the vehicle including the hinge pins. One of the biggest questions we have is how can you make flexible suspension arms out of titanium? Answer, it is through design and having a good understanding of the unique characteristics that titanium has to offer."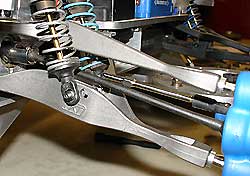 I must say that through the entire product review process, the guys at FlexTek have really shown us that they are serious about what they do. As you can see by looking at the arms, they are not a copy of anything else on the market. It is truly a ground up design. The geometry of their designs make the most of the unique properties of the titanium. Here's a quote from the FlexTek RC web site, "Our titanium suspension arms are designed to absorb impact but remain very rigid in the direction of suspension travel. Our arms have been designed using optimized geometries that utilize the unique properties of the titanium. This relationship allows us to design parts that will withstand much greater impacts as well as a dramatic reduction of these forces being transferred back into the vehicles related framework.
In addition to the abuse aspect, our engineers have paid close attention to the details that will make the parts perform at their optimum. All unnecessary material has been removed from the design to make the parts as light as possible while maintaining an overall balance of the part. Optimization of this nature translates to increased suspension speed assuring better wheel to ground contact resulting in enhanced handling."

INSTALLATION: Before we get started, we should also tell you a little bit about our test trucks suspension setup: the truck is a T-Maxx (duh) with Great Assembly RC Aluminum bulk heads, RPM axle carriers, RC Raven aluminum shock towers, Traxxas Aluminum Big Bore shocks and XTM CVD's. It has other hop-ups but these are the ones that directly relate to the suspension arms.

Installing the arms is a breeze and is basically the same as installing a set of stock arms. A couple of things to note about the arms themselves and installing them: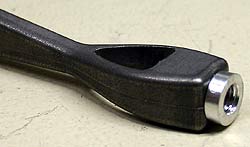 1. The arms feature threaded metal inserts where the pillow balls screw in. These inserts look great and really work well. Our pillow balls threaded very nicely into place. We recommend applying some blue, medium strength thread locker (Loctite) to keep them from spinning and coming out of adjustment.

2. The arms have plastic bushings where the hinge pins pass through them. This is a very nice feature as it will add life to the arms by not having the pins directly contact the arms. These bushings simply press in with a pair of pliers. Be gentle so you won't mangle the plastic. Get them lined up and press them in slow and straight. It's a simple job. These bushings are going to be wear items, so keep an eye on them especially if you are prone to running your truck in abrasive environments (sand, etc). FlexTek informed us that they spent a significant amount of time to find a material that would provide the best wear characteristics possible (a "high-wear factor material" as the designers at Flextek put it).

We mentioned to the FlexTek guys that we would have liked to see some extra bushings included with the package and they said "ok, no problem". Gotta like that! So expect a few spares in your package of arms (you can thank us later). You can also purchase them separately via their web site.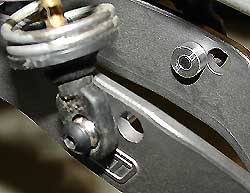 3. The threaded lower shock mounting bushings are aluminum and look great. Nice and shiny with well tapped, clean threads. They exist to give the shock mounting screw a place to thread into and attach to the arm. They work as a bushing and a nut. The bushings we received were round on the back side and that made it hard to grab onto to tighten things down. We thought it would have been better to have "flats" where you could use a wrench to hold them from spinning while tightening the shock screws. Not a big deal but a minor annoyance. Again we tossed our idea at FlexTek and they jumped right on it! As I am typing this review, they have new, hex sided bushings they are working on for final production. Talk about listening to you customers! Very impressive.You are going to want to use thread locker here also to keep everything in place.
4. The arms feel very light and quite similar to plastic versions. FlexTek tells us they are slightly heavier than stock but are the same approximate weight as RPM arms. That's pretty impressive boys and girls especially as we are talking about TITANIUM here!

You have already seen how flexible these arms are right out of the package. I must make it known that once they are installed, they feel very strong and "in control". We were worried about them making the suspension sloppy and that is not the case by any means. We also noticed that much of the weight/thickness of the lower arm is centered by the shock mounting point. This should provide the arm with improved balance and keep things from flexing at the shock mounting point, in turn letting the shocks do their job.

QUALITY: The arms design alone tells you that some serious thought went into them. Look around the RC industry....how many aftermarket T-maxx arms are there? A LOT! With very few exceptions and regardless of material, they are all based on the original stock, plastic design. These arms have certainly broken that mold. Speaking of molds, that's how these arms are made. They are made from titanium which is cast into a mold. Yes they are cast, not machined (as should be evident by the matte finish on the arms). FlexTek tells us that it is what gives the arms their elasticity.

Even though they are cast, there are very few casting marks on the arms. Overall they come across as a very high quality component, especially when you understand the background of the product.

Another important item to talk about; the arm design features all curved edges, no sharp corners (otherwise known as stress risers). A stress riser is an area where stress will tend to be concentrated as a result of a particular shape. When stressed, sharp edges (90 degree corners etc) are more likely to crack versus a curved edge (curves dissipate the energy throughout the design and do not allow it to concentrate in one particular area). Take a close look at the arms...no sharp corners, less chances of things breaking.

PERFORMANCE: We had a great time putting these arms through a variety of terrains. One of the first things we noticed is that truck seemed more "nimble". Meaning that it seemed like the shocks and suspension were able to do their job better without the mushy flex of plastic. The truck was noticeably more stable and in control when blasting across uneven terrain at speed. Overall, the truck handled and responded better with these arms installed.

We went to a local construction site for the majority of our testing as it offered many types of ground (and lots of air), all in one place. One of the best things we found was a 12-15 foot high cliff (you already know where this is going don't you). We launched the poor truck off the cliff at least a dozen times and never stopped giggling the whole time. What a blast! In fact, it was not until a rear CVD cross pin broke (nothing to do with the arms...just cruddy CVD's) that we realized we should have been getting some of it on film. Sorry we didn't think about it before the truck made itself into a front wheel drive wuss bag. Anyway, with the cliff jumping, rock bashing (there was one encounter in particular that both Pat and I agreed that if the arms were plastic, they would have broke and if they were aluminum, they would have bent severely...it was one of those "OOOOHH OUCH #$%#$" impacts...), and variety of other smash 'em up brutality we put them through, they never even thought about giving us any problems. In fact I am pretty sure we could have snapped the chassis, bent the bulks and messed up everything else before we would have wrecked these arms. Very, very tough stuff. Very, very impressive.

We were also quite impressed when we found out that FlexTek was working with Lunsford on the hinge pins and on the shock bushings. Lunsford is the RC authority when it comes to turnbuckles and hinge pins. When you talking titanium arms, nothing short of Lunsford will do. Why reinvent the wheel right?

Side note: Check the pictures and look at the upper arm setup. it leaves a lot of room for alternate, larger shocks to be used with the truck (1/8 scale shocks, ProLine PowerStrokes, or ????)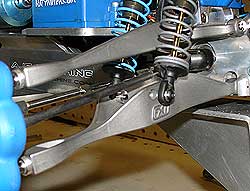 FIT / FINISH / APPEARANCE: As expected, the arms fit very well. We noticed a small amount of contact between one of the upper arm mounts and our aluminum bulkheads. We tried this arm out on another truck with the stock bulks and there was no interference. Then we tried another upper arm in the same spot on the test truck and as far as we can tell, the bulk must have a very slight bend in it? This is no fault of the arms...our test truck just needs a little work. The pillow balls, axle carriers and hinge pins all fit very well. No problems at all with the fitment.

The matte (semi-dull) finish is pretty unique. It is not the polished, machined look you normally see with "aftermarket" arms. They do not have a ton of the "bling" factor going on but the design gives them such a cool look, the flat finish is not really noticed. In fact the simple fact that they are not super shiny seems to set them apart. We were impressed by the smooth surface of the arms even though they are cast. There are very few casting marks (lines or ridges). FlexTek told us they are evaluating some different finishing procedures however they are sensitive to adding more cost to the product. If we had to choose between a higher priced polished arms or the arms "as is", we'll take them "as is". Form or function? Count us in for an extra helping of function. The matte finish of these arms really did a nice job in hiding the bruises we delivered to them in our testing. That was a surprising bonus feature we had not planned on. For giggles, we may fire up the Dremel and try polishing one of them just to see how it turns out. If we do, we will update this review with a picture so you can see how it looks.

COST / VALUE: The complete upper and lower arm set with bushings and a shiny new set of Lunsford titanium hinge pins retails for $379.95. While this may seem a bit pricey to some, remember that is is a mere $90 more than a set of aluminum HardCore Racing arms. Would you pay an extra $90 to go with titanium rather than aluminum? We would. It goes without saying that these arms will be out of some peoples RC budget however, it is important to remember that FlexTek is not stamping out "Chinese widgets" here (no offense to our fellow Chinese bashers). They are offering a unique product that delivers a very high level of performance. You are also getting a full set of Lunsford Racing Titanium hinge pins in the kit. Another thing that is important to us at BYT, FlexTek RC parts are designed, tested, and made in the USA.

THE VERDICT: We are excited to have companies like FlexTek joining the world of RC. It is great to have new ideas and new designs come into our industry. We are also excited that FlexTek will be releasing arm sets for the Revo and the Losi LST during the Winter of 2005 (the BYT LST will be getting a set of these arms...we are sick of snapping plastics like twigs).

These arms are truly unique (patent pending) and they worked very well. They took some heavy abuse, in at least one situation an impact that would have almost certainly damaged or broken plastic or standard aluminum arms. The fit is excellent and they give the truck a "get out of my way...I am a serious basher" stance and appearance. The truck felt more responsive and in turn, it was easier to control in the high speed bumpy stuff. To use a technical term, the truck felt less "wishy-washy". In regards to the price, if you have the jingle and you are a serious basher, throw it down for a set of these arms and maybe, just maybe, you will never buy another set of arms again (don't hold us to that...we have seen how some of you drive)?!

One last noteworthy item: Per the FlexTek RC web site: "FlexTek RC Cast components come with a full 30-day money back guarantee from date of the original purchase. Items may be returned for a full refund (less any associated freight charges) within this 30-day period. See warranty information for details." That is a good indication of a quality company and a quality product. This bumps us the Cost/Value part of our review. To this writer, it makes the parts more valuable when I know the company believes in their product enough to make a guarantee like that.

UPDATE: FlexTek is now calling their arms INDESTRUCTIBLE! And they are slapping a guarantee on it!

Check out the FlexTek RC web site and learn more about these killer arms and the other products that are coming soon! Tell them that the guys at Beat Your Truck sent you!

UPDATE: You can now buy these arms in the BYT Store! We loved them so much, we decided to sell them!