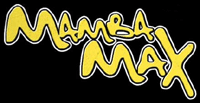 OVERVIEW:

Castle Creations has dominated the 1/18th scale brushless motor world with unbelievable power and speed. You know it....you have been reading about it on BYT for years. Project Rocketship was our first Mamba powered truck, then Project Full Speed Ahead and coming soon, the dual Mamba MLST project.
Castle has now entered the 1/10th scale world. In case you have not noticed, more and more manufacturers are coming out with brushless motor systems. The Mamba Max is Castle's answer to the 1/10th scale brushless craze sweeping the nation. Can Castle enter the 1/10th scale world and dominate it like they do the 1/18th scale world? Is it a hit or a miss? Read on to find out!
INITIAL IMPRESSIONS:
Brian: My testing involved all three models of the MM: 4600kv motor, 5700kv motor and a 7700kv motor, MambaMax ESC, and a USB PC computer link cable. I have held very light and flimsy brushless motors and I have also held bricks. This was a happy medium of the two as far as weight is concerned. The ESC is a non-traditional sensorless setup in the sense that it actually came housed in a case versus a heat shrinked unit.
Chris: Everything from the packaging to the ESC, wiring and motors is top notch. Every item is packaged well to make sure it is in 100% condition when you crack open the black box. The ESC is now in a traditional plastic case rather than being plastic wrapped and that makes mounting easier and it also looks better.
THE MOTORS:
Brian: The motors were planned with the RC enthusiast in mind. They are easy to get into as the cases are not permanently sealed. The wires leave the back casing of the motor on the side as opposed to the end. This helps with space-limited setups as it gives the motor a better fit. Many other manufacturers will leave their wires sticking out of the back where body or truck modifications will be the end result. The motors have a good weight to them but are still race worthy. As mentioned above, Castle will be offering 4600, 5700, and 7700 KV models.
Chris: The ends of the motor are a natural silver color and look fantastic with the signature green Mamba can. Everything about the motor including the 13 gauge wire running from the motor to the ESC says quality. The motor case has a very nice finish and looks like the quality piece that it is. The motor shaft has a flat spot for secure pinion gear mounting.
Placing a MambaMax can next to the 1/18 scale Mamba motor gives you an idea of the size of the new 1/10th scale power plant. Like the Mamba 1/18th scale motors, it feels hefty and when you have it in your hand, it feels like a serious piece of work, My first guess was that it was quite a bit heavier than a traditional brushed motor but I was way wrong. I tossed one on the scale to see where it weighs in (bad pun, I know):
Mamba Max 1/10th scale motor: 6.9 ounces
Trinity Speed Gem 19 turn Arcornite Brushed Motor: 6.2 ounces
Less than an ounce difference! Of course this will vary slightly by brushed motor but nevertheless, the weight difference is slight.
Each motor can is labeled with the KV and cell ratings:
7700kv (8 NiMH/NiCD; 2s LiPo)
5700kv (12 NiMH/NiCD; 3s LiPo max)
4600kv (12 NiMH/NiCD; 3s LiPo max)
THE ESC - SPEED CONTROLLER:
Brian: The ESC is the meat and potatoes of any BL system. The BL system comes with a built-in USB PC connector located on the side of the case. Gone are the days of pulling the receiver wiring out of the receiver to program via the computer. Initial setup is the easiest to date and took less than 1 minute to accomplish manually. The footprint of the ESC is very small and similar to a Novak GTX.
The ESC's features are noteworthy as well. The ESC has an auto-sensing feature that will automatically detect the type of cell or LiPo being used and adjust the cutoff voltage to the appropriate level. There is also a brushed motor emulation mode and also the ability to use brushed motors as well.
Chris: As noted above, it is a welcome change to see an actual case being used to house and protect the ESC circuitry. The USB port is ultra-sweet and there is nothing cooler than being able to program your ESC settings with great accuracy on your PC and then simply click the Update button and your ESC is all set. That is amazing and you will see more and more of this in the RC world. We had a blast playing around with the settings! Kudos to Castle for stepping up and making this technology SUPER easy to use.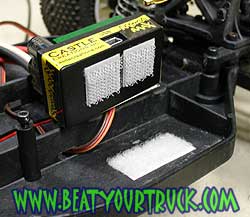 In tight applications like our AE B4, it could be a little hard to get to the USB plug. This is easily solved by mounting your ESC with some good quality Velcro. Ideally, top access to the USB port might be the easiest to gain USB access rather than having the port on the side. However if the port was top mounted, it might require the ESC to be taller and that would not be good either. The Velcro trick works awesome for tight ESC mounting spots. A small rubber plug/cover for the USB port opening would have been nice but we simply covered it with a small piece of electrical tape to keep the dust out.
Our ESC measured out at: 48mm (long) X 39mm (wide) X 30mm (tall) and is sized nicely. The ESC also features 7 aluminum cooling fins (each approx. 7mm long), anodized green for cool running and cool looks.
We love details and appreciated that the battery wires were pre-tinned and ready to accept the plug of your choice. A good quality plug like Deans is a must when dealing with this kind of power and amp draw. With this system, you have an incredible motor and more than likely, it will be powered by a very powerful battery. Why would you want a weak link in between them? Don't cheap out on the plugs!
PC CONNECTION & SOFTWARE / CASTLELINK:
Brian: The PC software was easier to use than the previous CastleLink version that has been out for some time. There are now more options available for the user to play with including a brushed simulated mode and a mode that will allow you to use a brushed motor on this no turn limit ESC. Also, you can program the ESC to automatically sense the number of LiPo cells that are plugged into it. This means that you can take 3 different LiPo's out into the field with you and fun without memorizing the bleeps, the jeeps, and the creeps of the controller.
Chris: The software installed easily and we did one update online via the Castle web site to get their latest version of CastleLink. Their updates are free and quick to download. Shawn at Castle tells me that as they develop new features for the ESC, they will make them available for download, again for FREE! How cool is that? So a year from now, we will still have the latest and greatest ESC…all with a simple download!
The software is great and allows an unbelievable amount of tweaking to be done to every aspect of ESC operation. Throttle and brake curves, brushed motor simulation, you name it. Even better…once you get a sweet setup for your backyard or particular track, SAVE it onto your PC! Reload it whenever you want.

Please don't let the software part of it scare you! It is super easy to use and completely Windows based....point, click, drag. Each function on the settings screens has a little blue "?" by it, that explains what that particular setting does in general, and then details each setting specifically. Example: If you are unsure what the Brake Settings mean, simply click the little "?" and CastleLink spells it out for you. You will be a brushless genius in no time at all!
We really need to stress the coolness factor here. This system is completely configurable! Tweak your own system, all on your PC. What other system offers this? NONE that we know of...not at this price. Castle is way in front with this feature. We had a blast playing with different throttle curves and other settings during out testing. This is not black magic. It is simple and it works awesome.

Click here for Mamba Tuning Guide! This is a MUST read for anyone that owns or is thinking about buying a MambaMax. Castle has put up some super information and it is worth your time to read it.

Castle includes a 6' long USB cable for hookup to your truck and it is a nice touch. I was able to place my truck on the floor and have it hooked up to the PC. The long cable kept the truck well out of my way while I was playing with the ESC settings. They could have saved a few bucks by including a 3' long cable and we are glad they chose not to.
INSTALLATION:
Brian: Installation was a snap!!! Normal BL ESCs are either flat or rectangular and take up a lot of room. In my XXX4 I normally had to mount ESCs to the side of the spur gear protective cover. This ESC will fit in the manufacturer's intended spot since the Mamba was designed to clone a brushed setup. The wiring was also long enough to reach any point on my chassis. Installation took less than 10 minutes for a clean professional setup. Instructions were very clear and explain a lot of the process versus "do this and now do this". In fact, all of the manual was written in a way to assist the unfamiliar to where they understood all that they were doing.
Chris: The installation process was easy with the included instructions and diagrams included in the manual. Good illustrations of wiring setups and well explained instructions will make this install well within the reach of an RC novice. The wiring was long enough for our B4 install and everything fit like a glove. Keep in mind the USB port orientation when installing the ESC and if it is going to be tight, go the Velcro mounting route for the ESC to ensure easy uploads. The motor fit perfectly into our test vehicle. Be sure to slobber some medium-strength thread locker on the pinion gear set screw during final installation.
ON THE ROAD!!!
Brian: I have driven brushless before and I am no stranger to them. This one blew me away!!! The moment I pressed the throttle my XXX4 screamed to life and almost crashed! On the 5700KV motor and an 8-cell IB 3800mah pack I was chasing automobiles and hitting well above 55 mph on the road. I have never seen my XXX4's Dirt Hawg's balloon before and the car felt as if it was on rails. My initial run time was around 30 minutes. At the end of the run I was literally shaking (almost hitting my camera at full speed will do that to a guy). I would recommend gearing down on this one!!
On the 5700kv motor and a 6-cell pack the buggy behaved in a manor that was similar to my 8-cell pack with other brushless motors. Response and control was a tad better than the 8-cell pack and was more of what I was used to speed wise. My run times again were averaging 30 minutes
The acceleration of the mamba system is second to none. On one video I was able to run past the camera at full speed, stop, turn the car around, and whiz by the camera again at full speed within 3 or 4 seconds.
I'd caution anyone wishing to buy the 7700kv to use extreme caution in what they are going to use this in. The motor was insane on the XXX4. The 8 cells GP 3800's could not give the motor enough power. I was never able to see the full power band of this motor. The motor was so fast that it made my car extremely uncontrollable at times. My 4wd buggy pulled wheelie's on command and did a lot of end over ends. This motor also resulted in the most damage.
Chris: We ran the Apogee 2 cell LiPo 3800mah pack with each motor setup to provide a level playing field to compare the various Kv motors. We ran each motor for a minimum of 10 packs. Run time was about 20 minutes per pack even when driving our B4 truck extremely hard. And you wonder why it takes so long to get product reviews done? That's about 10 hours of driving time!
Operating temperatures stayed below 165F even when we were out running in 90 degree weather with a 70 dew point…..hot and humid! The weight of the truck, how and where it is driven, airflow, how it is geared along with drive train drag are the key factors in determining the operating temps. All in all, the entire Mamba system ran very cool for the power it was firing out.
The 7700kv system is truly for the ultimate speed hungry RC fanatic that just can not get enough. The 7700kv motor will satisfy this crazy individual….just add ample battery power and strap on an adult undergarment. Ridiculous, amazing, tire knifing power is only a trigger pull away. Make sure you have your tires glued really well. If not, they will fly off the rims (we found out our B4 tires we not glued on very well...we had to reglue them numerous times)! We are talking "600hp Hemi engine in a go-cart" type of power. It is not for everyone but if speed is your middle name, sign up for the 7700kv. Keep in mind that you will need a lot of real estate and some serious battery power to fully experience the top speed of this motor. Even out 2cell LiMN 3800mah batteries did not have enough juice to push this motor to its limits. There is nothing we can type that can describe this motor. The word that keeps coming to mind is "MISSILE".
The 5700kv system is wicked fast while being much more drivable than the 7700kv and perhaps more versatile. In our opinion, it offers the best blend of both speed and pulling power. Anyone interested in a wicked fast motor for the track or bashing scenario will find the 5700kv a perfect setup. You can strap 3 cell LiPo's to it or run up to 12 NiMH/NiCD cells on it. Start with 6 or 8 cells and move up from there (and be sure to buckle up). This is probably the best rounded setup for most 1/10th scale stadium trucks and buggies.

Here's something else to consider. Do you think the 7700kv is the fastest motor? Think again. It is all about the power you can give to the motor...check this out!

*************************************************************
7700Kv x 2 cell lipo voltage (max with this motor) = 53,900 motor rpm.
5700Kv x 3 cell lipo voltage (max for the motor and ESC) = 59,800 motor rpm
*************************************************************

While some may shy away from the 4600kv system just because it is the "smallest" of the three MambaMax's, it truly has some advantages the other systems do not. It is very fast and has lots of torque while not being a ballistic missile launcher that will tear up your drive system. Yes, the 7700 and 5700 system when under some good juice will accelerate the wear on your drive train. It is simple physics. More power will mean more wear. The 4600kv system gives great speed and power while not tearing up your truck as dramatically as the other systems will. The 4600kv is also the easiest to drive as it is not "lightning" fast like its bigger siblings. Being "speed of light" fast may sound good but the faster you go, the harder the truck becomes to drive and the harder it will crash.
Novice RC drivers looking for something more than a standard brushed system will greatly enjoy the 4600kv MM and can always add more battery power to boost their speed and performance as their skills increase. OR buy a 5700kx system and tweak down the settings until you get the hang of driving this kind of power and speed...then CRANK IT UP! CastleLink gives you the power to make the motor do exactly what you want it to do.
The performance level of each individual MambaMax system is nothing short of astounding. Each system fits a unique need and driver level. Castle did a great job in spreading out the Kv ratings to offer something for everyone.

Here is a speed chart from Castle Creations with data taken from a radar gun.

MAMBAMAX TOP SPEED CHART

On 6 cells:
4600kv motor ~ 30mph
5700kv motor ~ 35mph
7700kv motor ~ 45mph

On 2s lipo:
4600kv motor ~ 30mph
5700kv motor ~ 40mph
7700kv motor ~ 50mph

On 3s lipo:
4600kv motor ~ 45mph
5700kv motor ~ 60mph (BYT note: The 5700kv is the fastest!)
FINAL THOUGHTS:
Brian: If you want speed, speed, and nothing but speed then this is your system. If you want to plow through dirt and grass at a blistering pace- again, this is for you!
I spent a couple of weeks and put at least 35 packs through this Mamba system. My ICE charger received a very good workout during this process. The Mamba maintained an average temperature below 150 degrees on motor and esc. Performance and power were always consistent. Programming manually and via the computer were the easiest that I have seen. The performance, power available, and programmability of the Mamba ESC alone is worth the price tag of the entire system and will be very competitive with similar sensorless setups.
I found the 5700KV motor to be my favorite. I felt the motor was almost too fast but I was still able to maintain control of the vehicle. The 5700 allowed me to have all the speed on road and still have the torque to push a truck or buggy over grass and dirt. I find this motor to be ideal on any platform, however like any high rpm motor, it will be more suited for a on-road application over anything else. The 5700 was also very easy on the gears and belts of my XXX4. Through 20 packs of sheer high speed the gear wear was minimal.
Chris: The MM product slogan of "Make 'Em Cry" is exactly what this system will do to your competition on the track or the punk next door. The MambaMax lived up to all of our expectations and then it exceeded them. The only "flaw" we found with the package is there are no decals included! A sweet looking yellow and black Mamba sticky would have been nice but hey, perhaps it is better that the "other guy" doesn't know what is under my B4 hood. It's a sleeper!
We have run others but nothing else we have seen offers the programmability and utter speed and power that the MambaMax does for the price. The value is intense. We do not see another manufacturer offering all the bells and whistles that the MM system does…not even close, especially when you factor in the CastleLink software and all that it offers for custom setup.
Once again, Castle shows that they know brushless and they know it better than anyone! Click here to visit the Castle site and find out where to get yours!

Click here for Mamba Frequently Asked Questions!

Click here for Mamba Tuning Guide!