INTRODUCTION

I get emails with questions about pipes all the time..."what pipe should I buy?", "is this pipe any good?", "what's the best pipe?", etc. If you have looked at my trucks over the years, you may have noticed that I almost always run CVEC and have been a firm believer of the extra power their products deliver. As you probably know, CVEC is dead and gone....so now what?

Enter Buku Performance Pipes. Here's how they work. They are similar to CVEC in that they have a internal cone that moves and it has spring tension on it, so the tuned length of the pipe changes during operation. But this is not a CVEC....after looking mine over, this appears to be a serious step above.

Check this animation out for a cool picture of how tuned pipe length affect performance. Here's a good write up on tuned pipes and how/why they work like they do.

PACKAGING / INITIAL THOUGHTS
The pipe and accessories come very well packed in a padded box, almost like a little custom suitcase.

Included items:
• 1 Fully Assembled Buku Power Exhaust System
• 4 Tension Springs
• High Power Convergent Cone
• 2 Restrictor Rings
• Tuning Plug
• Adjustment Wrench
• Mounting Wire
• Buku Decal
• Detailed instructions

The only thing it does not come with is a new rubber coupler so be sure to check the condition of yours before putting the Buku pipe on....there's no better time to get a fresh coupler on than with the install of a new pipe!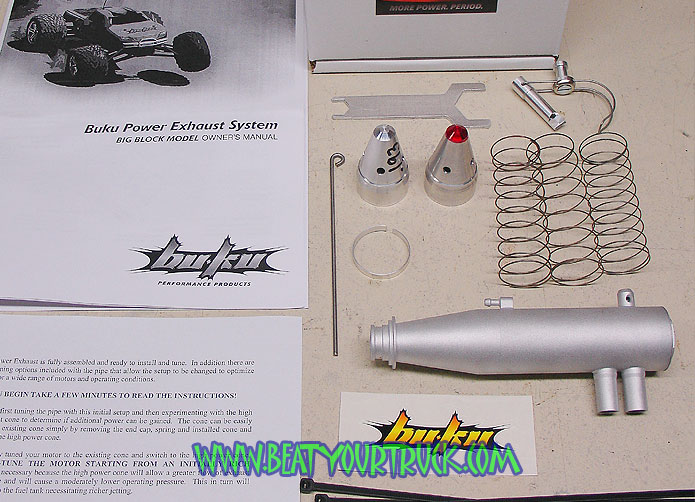 This is truly a unique pipe as you can change cones and springs without removing the pipe via a simple removable plug on the end of the pipe (wrench included). You can also adjust the spring via another adjustment on the end cap (using the same wrench). Again, you do not have to pull the pipe off the truck to do these adjustments or make cone and spring changes! How cool is that?! It's very cool and makes tuning for the sweetest power spot possible easy as can be.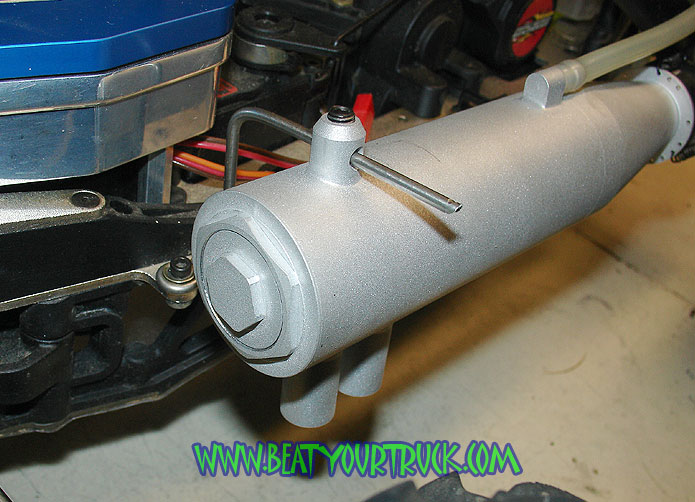 APPEARANCE
The overall size of the pipe is massive! It says "look out....there's a bazooka on board". It looks awesome. It would be nice to see this pipe in a polished finish or a hard anodized finish. The stock finish is good but I noticed some light scratches on it after I removed the tuning plug. That's kind of a bummer as our brand new pipe was scratched and we were still in the tuning phase...not even out bashing it yet. Hey, this is Beat Your Truck and things get scratched! This is not a big deal as it does not affect the performance of the pipe at all, it's only an observation.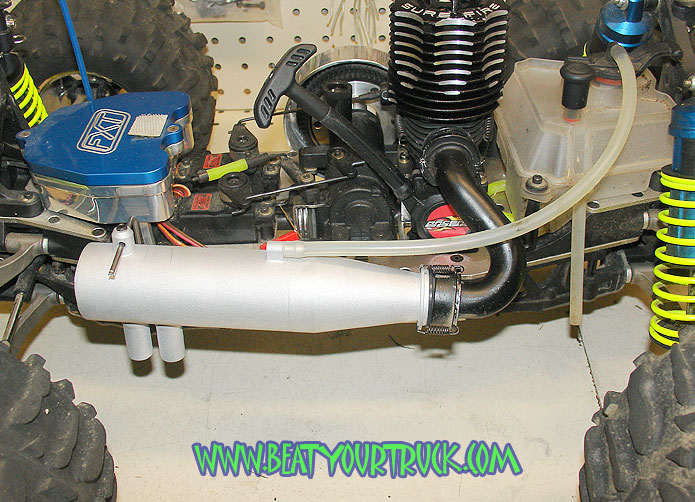 INSTALLATION
I chose to install the Buku on our Losi LST equipped with a Racer's Edge 32 engine. While this truck has lots of engine power, I was still running the stock pipe and figured this would be a perfect place to see what the Buku could do.

Installation is easy and the included manual goes through every step in detail. About the manual, it is significant, especially for a pipe! You are going to need to take the time to read this manual and understand it completely Buku gives specific instructions on how to tune the engine and what cones and springs to use to fine tune performance. Yeah, yeah....I know that nobody wants to read the manual but this time, you are going to have to do it! No worries. It is a quick read, is well written and easy to understand.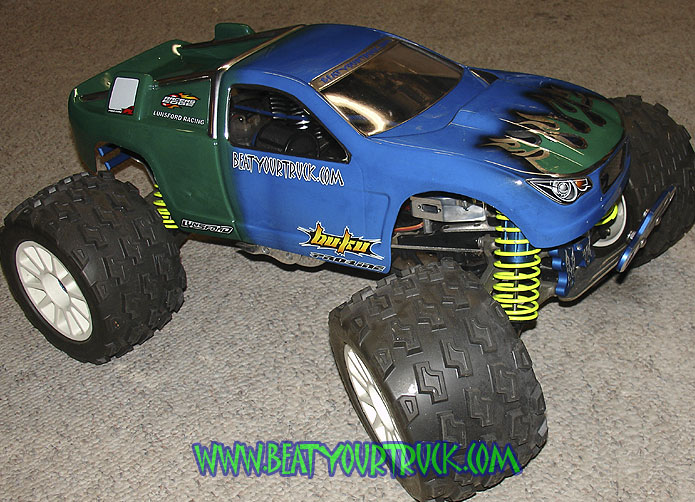 PERFORMANCE / TEST RUNS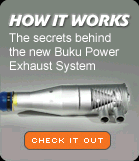 I followed the manual to a "T", installed the tuning plug and tuned the engine for power. Interestingly enough, as soon as I put the pipe on with the tuning plug (which defeats the moving cone...see picture below), the truck was shifting out of first in about 2-3 feet! I initially thought the truck was stuck in second gear as it was shifting so fast out of 1st, I could barely hear it! So I did the transmission adjustment, turning the screws in two full turns just to get it to hold onto 1st gear for about 10 feet. It was quickly becoming clear how restrictive the stock pipe has been.

Once I had the transmission shifting a little later and the engine was running good, I removed the tuning plug and started tweaking the spring force. Basically, you are adjusting springs and cones to find the best mix of low end punch and high end power. The standard setup gave me very nice low end punch with a few small spring turn adjustments. My high end was good but needed a little more....it seemed to hit a plateau and just stop revving.
A quick check of the manual, a few more tweaks and we were flying. This thing not only hauls the groceries, it hauls the whole grocery store. I was very impressed by the amount of power on tap at almost any throttle position. 1/4, 1/2, 3/4.....just pull the trigger and watch it go! Even with the big 40 series tires on it, this thing would pull wheelie's all day long if you so desired. The Racers Edge 32 has been choked out for a long time and I never even knew it. This pipe really lets the engine exhale.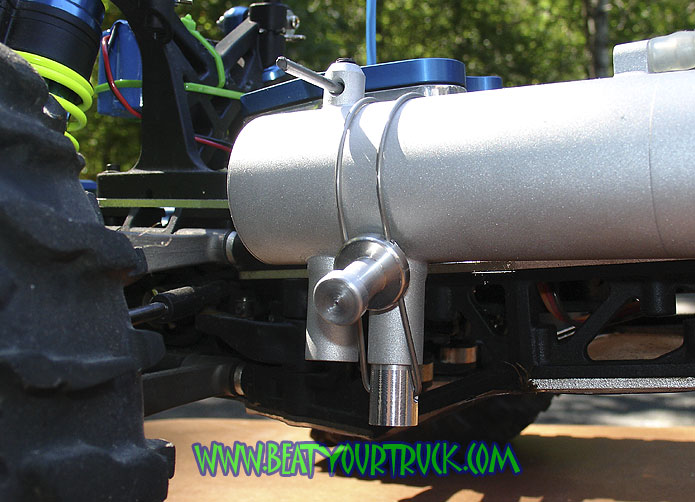 SUMMARY
I am extremely impressed by the quality and design of the Buku pipe. Buku stands out as the performance exhaust leader, offering more customizable options for tuning than any other pipe on the market, by far. Seriously, you get a manual with this pipe! The manual is extremely well written and does an excellent job of not only telling you what to do, but it explains how the pipe works. You will NEED to use the manual and make adjustments as listed to get everything out of this pipe. It is well worth the time spent to do so as the results are excellent.

A complete pipe package sells for about $100. Remember that this includes a variety of springs and cones to tune your engine for maximum power output. It is not a "one size fits all" pipe and truthfully, when you think about the variety of engines and trucks out there, you need to be able to fine tune your pipe.

The only suggestion for improvement would be a slightly different finish that would be a little less prone to scratches. I also realize that polishing or anodizing a pipe adds cost. If I had to pay another $20-$30 for one of these finishes, I would. Maybe it could be an option? Regardless, don't let this extremely minor issue shy you away from buying this pipe!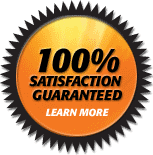 Buku also has a 100% Satisfaction guarantee! From their web site: At Buku we pride ourselves in knowing that we produce the highest quality and best performing products. If you are having difficulty with your Buku Power Exhaust System then we encourage you to call (1-877-BukuPower) or email tech support. However, if you decide that for any reason you do not want to keep the Buku Power Exhaust System then simply return it within 30 days of the original purchase and we will refund 100% of your purchase price.
Thanks to BUKU for giving us a new pipe to worship and recommend to fellow BYT bashers. With the wide range of sizes and engines covered, there is certain to be a BUKU pipe on all future BYT nitro vehicles!
Visit the BUKU Performance Pipe web site and get on the pipe!