It was over a year ago when we first chatted with the guys at GorillaMaxx looking for some stuff to do a review on. At the time, they were specializing in E-Maxx hop-ups and we did not have one of those in our stable. About a month ago, they contacted us with some great news. They had a new G3 Race Suspension they wanted us to try out! We checked out their web site and could not stop staring at their sweet new setup.

As you know, we at BYT are not "racers" per say, we were born to bash. After testing this "race" suspension out for almost a month, it is apparent that the G3 is also born to bash. Read on my friends!

FIRST IMPRESSIONS: The arms come packaged in a manner that the pieces are kept separate, eliminating any chance of shipping scuffs. All the hardware required is included and is the nice quality, black finished type. It will look great with the aluminum. The hardware and shock spacers come in separate, Zip Lock baggies to make assembly easier. GM gets an A+ on the packaging.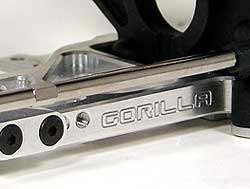 Once we got everything laid out, the machine work on the shock towers and suspension arms really grabbed us. The arms and shock towers look very, very nice. What REALLY caught our eye was that the shock towers are super short! They are about 1" shorter than stock or most aftermarket towers.

The GM G3 allows you to adjust the length of your wheelbase. Yes, you read that right! You can add 1/2" to the length of your truck! This is a very appealing option as it should help increase stability and keep the truck lid facing upwards.

INSTALLATION / GENERAL NOTES: Here's a quick run down of what is included in the G3 Race Suspension Kit:

* 4 upper arms (CNC machined 6061 T6 aluminum)
* 4 lower arms (CNC machined 6061 T6 aluminum)
* 2 shock towers (CNC machined 6061 T6 aluminum)
* Lunsford titanium hinge pins and steel e-clips (BYT's favorite hinge pins)
* 8 shock levers / lower shock mounts (CNC machined 6061 T6 aluminum)
* shock stand-offs/spacers (aluminum)
* shock tower spacers (aluminum - used if you go for the extended wheelbase option)
* all required/necessary hardware
* decal sheet (sweet looking stickers)
* detailed instructions with good quality line art

As you can see it is a complete package with the Lunsford titanium hinge pins and G3 CNC machined aluminum shock towers. GorillaMaxx includes an excellent set of instructions with well drawn line drawings to use as a visual aid. We will not go through what has already been done very well by GM. You can click here to download the instructions and check them out. The decals are killer and you will have no problem finding a place for them.

Here are a few things we noted during the install:

* You will need to decide if you want to extend your wheelbase or not at the time of installation. This is explained in the instructions. We recommend trying it out.

* GorillaMaxx includes hardware and spacers for both single and dual shock setups. Whether you are running four (4) 1/8 scale shocks or the standard eight (8) shocks on your T-Maxx, you are covered.

* The lower arms are very beefy. Check out the amount of material that GM removed while still leaving a lot of metal to take a beating.

* If you go low with the body mounting posts, be sure to check the clearance with the upper a-arm. You may have to trim a bit off the bottom of the post.

* The suspension arms have a "sweep" to them and that is how the "extended wheelbase" thing works. After installing the arms in the "extended mode", you will need to simply add spacers between the shock towers and bulk heads (moving them towards the bumper end of the bulk head). This keeps the top shock mounting position inline with the arms. To get the extra wheelbase, you mount the arms with the "sweep" towards the bumper end of the bulkhead. Very simple and effective.

* The arms have setscrews for the pillow balls to keep them in place. We still used medium strength thread locker on everything but the extra holding power of the setscrews is a very nice touch. Be sure not to crank too hard on them and mess up your ball threads.

* There are numerous shock mounting positions on the top and bottom. If unsure where to place the shock mounting at, you can always start in the middle and fine tune from there. Here is a blurb from the GorillaMaxx web site that may help you decide where to start: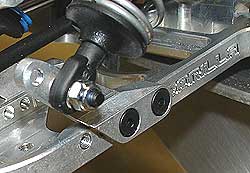 Leverage force tuning - The lower arms are designed with 'L' shaped levers for mounting the bottom ends of the shocks. These levers can be moved along the arm to control the resistance force of the shock. Moving then further from the hinge point will increase resistance, while moving closer will decrease resistance. For example: Firmly hold out one arm straight ahead of you. Push down on this arm with your opposite hand at a point above your elbow. It should be difficult to force down. Now, do the same but push down near your wrist (much easier). With force tuning, small shocks can act like "big" shocks with less weight and less cost.

* The G3 kit also allows you to adjust the caster of the wheels. This is done via nylon spacers where the upper arms mount to the bulkheads. Caster adjustments should really only come into play if you are doing some fine tune work for racing. If you are in bashing mode, just use one spacer on each end of the arm to keep things at the stock setting.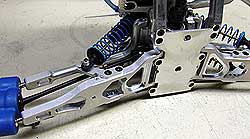 QUALITY: As noted above, the arms and shock towers are CNC machined 6061 T6 aluminum. It is plain as day that a lot of time, thought and development went into this system. Every piece screams quality. This is by far some of, if not THE nicest machi8ne work we have seen on any kit like this. The arms, towers, spacers, lower arm mounts and hardware are all very high quality (duh...just look at the pictures). What more can we say?!

PERFORMANCE: It is common knowledge that we at BYT are bashers, not racers (after all it's "Beat", not "Race" Your Truck). To be very honest, we were a little skeptical about using a system that clearly has "race" in its name. Would it work for a basher? The answer is a clear and outstanding "yes". We should make note of the other suspension components on the truck:

* Traxxas Big Bores
* 4 Lunsford Titanium Springs
* 4 Trinity Blue Springs
* 50wt Trinity shock oil in all the shocks

We chose a local construction site for our testing ground as it provided a wide variety of terrain to play on. High speed runs on the flats displayed the trucks lower center of gravity and increased stability. It was tough to get it to flip over; instead it would slide like a hockey puck on ice. Bombing it over rough terrain at speed was great. The truck stayed in control and soaked up the bumps like a ocean sponge.

So you may ask "What about jumping...can it jump?". Oh yeah! In most cases the truck flew straight as an arrow and it seemed to be easier to keep it "flat" and get all four tires on the ground for the landing. It felt much better than the stock setup. More responsive, more agile and it gave us extra confidence when hitting the bigger stuff. With the wide variety of shock settings, it was easy to tune the truck to handle what we were throwing at it. While throwing the bad boy over some bigger jumps, we set the shock angle up for more resistance and that kept us from bottoming out on all but the really big stuff. We could have changed up the shock oil to get rid of that. The truck saw a number of cart wheels, bad landings and crashes. Other than a few dings here and there, the arms are still straight! They took a healthy beating with no troubles.

One of our common dislikes of aluminum is the added weight. GorillaMaxx took weight out of the equation as their arms are ultra-lightweight and they claim they are as light as the stockers! Overall, the suspension worked very well. We have no complaints and were able to find no room for improvement.

Another nice feature of this system is that you get many more shock mounting positions when compared to the stock setup (for low riders and high riders). The guys at GorillaMaxx also said that you can connect the shock directly to the lower arm (skipping the included mount) for even more adjustability.

One thing we should note about the lower shock tower location: they expose your engine to more impacts (now your engine is the highest part of the truck). You might want to think about a roll bar (you should have one anyway)?

EXTENDED WHEELBASE SETUP: We were very excited about being able to stretch out the truck and extra 1/2" for added stability. While we were unable to notice a shocking improvement when going from the extended setup to the stock arrangement, logic tells us that it is there and working. A racer will most likely be able to benefit from this more so than the average backyard basher. Either way, we like it and in theory, it is a great feature.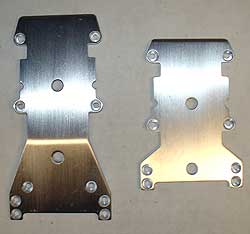 G2 RACE SKIDS: GM included a set of their trick G2 race skids for us to try as well. the G2 kit includes: (1) front skid, (1) rear skid, fasteners, and decals (man we really like these decals). As you can see by the pictures, the skids are trimmed for maximum weight reduction while still protecting the vitals.

Many skids on the market try to act as skids AND bumpers. We have never been hip to this school of thought as bumpers are there for a reason! If you use your skid as a impact bumper, it puts incredible force upon the mounting screws and bulk heads. Not cool. We like how GM designed their G2's....they are skids and nothing more. The quality, fit, finish and value is loaded in. They feature countersunk mounting holes, beveled edges, CNC machining, 2.5mm thickness, 6061 T6 natural finish aluminum and they are 30% lighter than stock skids! Excellent setup. Per a recommendation on the GorillaMaxx web site, we also bolted an RPM wear plate (sold separately...does not come with this kit) to the front. This setup worked very well and again, we really dig these skids.

FIT / FINISH / APPEARANCE: Everything fit together very well. No rubbing, everything in its place. Top notch fit on all items.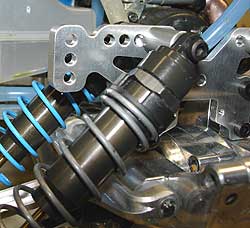 The finish is a natural aluminum and has a nice, medium shine to it. A couple of minutes with the Dremel and a polishing wheel and they would shine like chrome. The finish is uniform, we found no burrs and the threads were all tapped perfectly.

Well, what about appearance? What do you think?! Have you been looking at any of the pictures?!! The low profile shock towers are an eye catcher and add to the visual experience. Take a close look at the arms and shock towers. They are not your run of the mill design. GorillaMaxx has machined away material anywhere they could to save weight while not causing weak points. Lighter weight suspension arms let the shocks do their job and increase your trucks handling. The milling work adds to the performance and really adds to the look of the setup.

While the "BLING" factor is not a necessary item for bashing performance, we certainly have nothing against it! Even though we beat our trucks, we still want them to look good. When you show up to bash or race with your buddies, it would be hard to find someone with a better looking suspension system on their truck. All of the components work together to deliver an awesome appearance.

COST / VALUE: The G3 Race Suspension retails for $279. When you factor in everything that comes with it, the quality, fit, finish, appearance and performance, this kit is worth every penny of the $279.

The G2 Race Skids retail for $34. That is inexpensive and they are worth it, big time. Loads of quality for less than $40!

THE VERDICT: Get them. Or better yet, revise your letter to Santa and add these to your list. They look great and work great. What more could you ask for?

We like these parts so much that we have decided to build an E-Maxx over the winter JUST so we can try out some of their renowned performance parts for the electric MT.

Check out the GorillaMaxx web site and learn more about this sweet suspension system and other sharp products they offer. Tell them that the guys at Beat Your Truck sent you!