OVERVIEW:
FullForce RC has just released yet another new item to compliment and expand their catalog offering. If you have gone through their
website
, it is obvious that they carry a LOT of custom hop-ups for the 1/18th scale world of RC. Mini-T, RC18, MLST, and the list goes on. Normally the hop-ups entail aluminum and carbon fiber goodies that make your little rocket stronger, lighter and faster. Their latest tricked out item is a little different.....read on fellow RC junkie.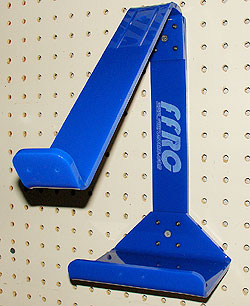 Say hello to a 1/18 scale RC stand. Now wait…this is not a conventional table stand like you have already seen 100 times. This is an inventive, smart,
wall mount
system that will not only hold your 1/18 scale truck securely, it will also hold the transmitter! If your shop / work area is like ours, shelf and bench space is at a premium and to be able to store your truck and transmitter on the wall is a pretty wise idea. Let's take a closer look and see if it is all it is cracked up to be.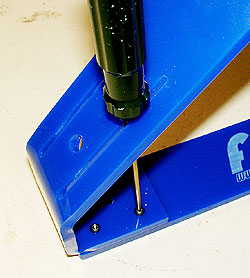 ASSEMBLY:
The stand comes in three pieces and requires installation of 8 screws to put the thing together. The holes are tapped as well to make assembly a breeze. FFRC goes the extra mile (
like always
) and also includes a hex wrench for the job. You'll also find some FFRC decals in the package, perfect for tricking out your ride or toolbox. Assembly of the stand is quick and easy, a 5 minute job at the most. The assembly hardware is black oxide (way over kill but you have to love that) and there are through holes and slots in the stand to make wrench access easy for assembly.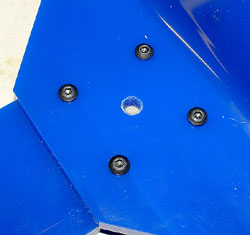 INSTALLATION:
The screws for wall mounting are not included, most likely as this requirement can change a lot if you are just screwing it to a wooden stud or anchoring it to concrete block (basement wall, etc). Notice the pre-drilled 5mm holes for mounting the stand to the wall. For our review, we simply used two drywall screws and screwed it into the pegboard in our shop. Once we get our shop renovated, we will be mounting this stand (and several others for all of our 1/18 scale rides) directly and permanently to our concrete walls.
CONSTRUCTION & FEATURES:
The stand construction is lightweight yet flexible and strong; plenty strong enough too hold even our MMMLST (dual Mamba, all aluminum truck). The material is a rigid 1/4" thick, solid acrylic plastic material that is laser cut, then heated and bent into the proper shape via use of a specialized jig system FFRC specially developed. This is thick, solid stuff that will last for a very, very long time. FFRC also took the time to etch in their logo on the "spine" of the stand and it looks really cool. This is a nice touch!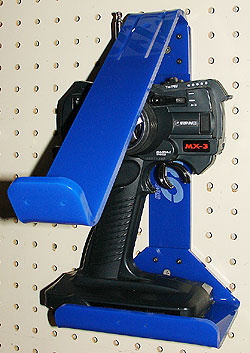 PERFORMANCE:
So how does it work? Absolutely great! Our trucks look great on it and it frees up a lot of shelf space in our shop. The trucks are suspended so that the tires are under no load and will not develop flat spots over extended periods of storage.
The lower shelf plate works perfectly as a transmitter stand and I was able to put my Airtronics MX3, JR XR2i & XS3, Losi, and Traxxas TQ3 transmitters on it with no problem. Transmitters with longer antennas (ones that do not entirely collapse inside the transmitter) did not slide under quite as far but they were still well seated on the shelf with no chance of them falling off. This shelf could also be a great spot to stack up some extra tires (or whatever) if your transmitter already has a home.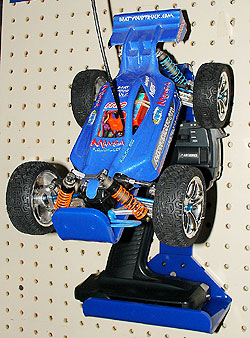 FINAL RECAP:
We have to give BIG kudos to FullForce RC on this stand design. There is nothing we could think of to improve this piece. Not only does it keep the load off the tires while my babies are parked waiting to be beat, this stand uses wall space rather than shelf/bench space. I do not know about you, but in my shop, I have a LOT more wall space than I do bench space.
At a special price of $35, this stand is a "win win" deal. We have TONS of money invested in our rides and it only makes sense that they should rest on a stand like this in between beatings. Our cherished RC18B (Project FSA) has found a new home. Now I need to get my shop revamp done and order three more for my other 1/18th scale rides (Mini-T, MMMLST, and Mini-Quake).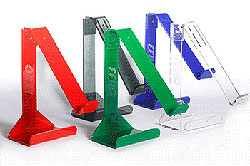 These stands also come in other colors like red, green, clear and smoke! For BYT, our colors are blue and green so we are going to do alternating colors on the stands in our shop. It will look pretty awesome!
Thanks FFRC for yet another awesome "must have" item for our 1/18 scale truck collection. While this item does not make my truck stronger or go faster, I think of it as a reward for my truck. I beat the heck out of it whenever I have a chance….when it is sitting around waiting to get beat again, it deserves to have the best resting place possible!
Visit the
FullForce RC
web site today and get your stand before they are all gone!
FFRC is only offering these for a limited time!