Last year I took a big chunk out of my OS cylinder head during a truck beating. Not a good deal. I am also getting sick of smashing my truck body into little pieces. It's time for some truck protection. This
three point roll bar by New Era
installs quick and utilizes some seriously thick steel tube. It is surprisingly lightweight even though it is made from steel!
A great item especially for the price ($35).The only drawback we see (or thought we saw) was that it bolts into the front shock tower. We initially thought this would be a problem however after NUMEROUS beatings, it has held up very well. Shows what we know!

It fits nicely inside the truck body. We adjusted our body to fit snug against the bar to give the cab more strength in roll over's. So far this has proven to be a good move.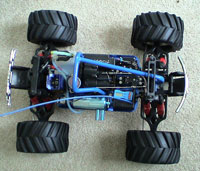 Visit the New Era web site
to learn more about this roll bar and other products.
UPDATE
: This has proven to be one of the simplest and best performing roll bars we have ever used. If you want simple, clean and super tough, check out the
3-point bars from New Era.